TURNING THE TIDES OVERVIEW
Turning the Tides, a coalition of scientists, musicians and educators, introduces students of various cultures, races, religions and political persuasions across the world to each other via the internet. They are working together on environmental issues and are planning an international concert. Currently involved are 12 schools located in Alaska, Peru, Myanmar, India, and Gaza.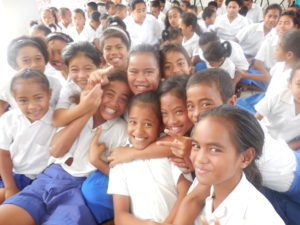 Students on different continents are sharing songs that celebrate nature – especially oceans –and inspire action –singing them together on the internet.
Oceans are 71% of our planet, provide 70% of the world's oxygen and food for everyone. Even if we have never seen oceans and live thousands of miles away, whatever we do affects them. Toxins, plastic bags, everyday garbage – all make their way to the ocean. Everything – from the clothes we wear to the food we eat, affects ocean health (and the health of everything else). We are learning that what we "throw away" comes back to us in food, air and water. We are, truly, part of a web.
Students are producing short videos showing their day-to-day life and how the health of the natural world, especially the ocean, impacts it. They share traditional knowledge, teach music that celebrates the natural world and brainstorm joint projects.
We hold a vision of thousands of students singing and working together on common issues – eventually producing a world concert that celebrates oceans and raises awareness about actions everyone, wherever they live, can take to restore ocean health.
WHERE WE ARE
Turning the Tides connected a grade school in Toksook Bay, a remote Yupik Eskimo village in Alaska, with one in Yangon, Myanmar. Toksook Bay students produced a phone video about their lives and where they live (see below). Yangon students sent a video back. They are discussing joint projects and teaching each other traditional songs.
Turning the Tides is connected with ORCA, a nonprofit organization based in Peru, that rescues sick and injured sea mammals , nurses them back to health, and monitors toxin levels in their bodies. Mining wastes are in the ocean near Peru, and scientists have found mercury levels as high as 250 ppm in marine mammals. Eating these is causing pancreatitis, severe diabetes and death in coastal populations.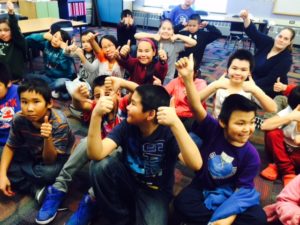 A seal near Juneau was also recently found with 250 ppm of mercury. This is important information for Alaska coastal peoples – and something that governments are choosing to ignore.
Schools in Hoonah, Angoon and Juneau are in communication with teachers and students in three schools in Peru, learning to prepare fish and sea mammal meat to test for mercury. They are also sharing music.
Juneau junior high teachers are in contact with teachers in Christian and Islamic schools in Gaza. They have started production of videos of their lives, have chosen music to share, and are brainstorming joint projects.
A school in Bangalore, India, has sent a student-produced video, and we are in process of connecting them to an Alaska school.
This is a learning process. If these initial schools succeed in forging productive connections, and can work and sing together, we will invite students everywhere to join, with the goal of establishing lasting relationships and an international internet event that features children celebrating oceans and inspiring change.
OBJECTIVES
To experience the beauty, vitality, importance and intelligence of the natural world, with a focus on oceans and their importance to the continuation of all life.
To use the international language of music to sing across traditional political, cultural and religious borders celebrating each other and the world around us.
To work together to help heal the oceans – remembering that wherever we are and whatever we do affects their health.