OCEAN BEAT is in the early stages of connecting an initial forty schools across the world – introducing city children to those in villages, island schools with children living high up mountains, thatched jungle classrooms with ones on arctic ice – to discover commonalities and share ideas, projects and music. Twelve schools are currently connecting – in India, Myanmar, Alaska, Gaza and Peru, with four more in line. We are learning as we go, with the help of students and teachers.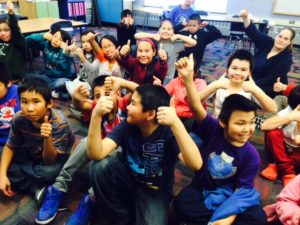 OCEAN BEAT is associated with ORCA – an environmental organization in Peru that rescues sick and injured sea mammals, nurses them back to health and monitors toxin levels in their bodies. Peru scientists have found mercury levels as high as 250 ppm in marine mammals. Eating these is causing pancreatitis, severe diabetes and death in coastal villages.
Southeast Alaska waters may also have high levels of mercury. An Alaska seal has been found with 250 ppm of mercury.
This is important information for Peru and Alaska coastal peoples and something governments are choosing to ignore.
Alaska schools in Hoonah, Angoon and Juneau are in communication with teachers and students in three schools in coastal Peru where, in addition to sharing music, students are learning to prepare fish and sea mammal meat for mercury testing – and letting communities know what they find!
Toksook Bay, a remote Alaska Yupik Eskimo village is connected with Lumbini school in Yangon, Myanmar. Students have exchanged getting-to- know-you videos and are producing others that teach traditional songs and dances – to perform together on a split screen.
Dzantik'i Heeni middle school in Juneau, Alaska, has Skyped with music students in Gaza. Both have produced introductory videos and are looking forward to more communication!
Christ school in Bangalore, India – with 600 students representing widely varying religions, has sent an introductory video asking to be connected with Alaska students.
The Don Boeco Tribal school in Amkachi, Assam, India, is also preparing an introductory video asking to be connected with American students. This school is in a remote village of 150 families living in bamboo huts, who want to become a "peace village" and are learning permaculture. They live three hours by elephant from the biggest rhino preserve in the world. The school is a magnet for 600 children from various tribes in the area.
STUDENTS SHARE:
Introductory videos that show their day-to-day lives, and how they are impacted by the ocean.
Traditional music that celebrates the ocean and the natural world.
Ideas of projects they can do together.
The wisdom of their elders regarding ancient ways of relating to the systems that sustain us.